Poles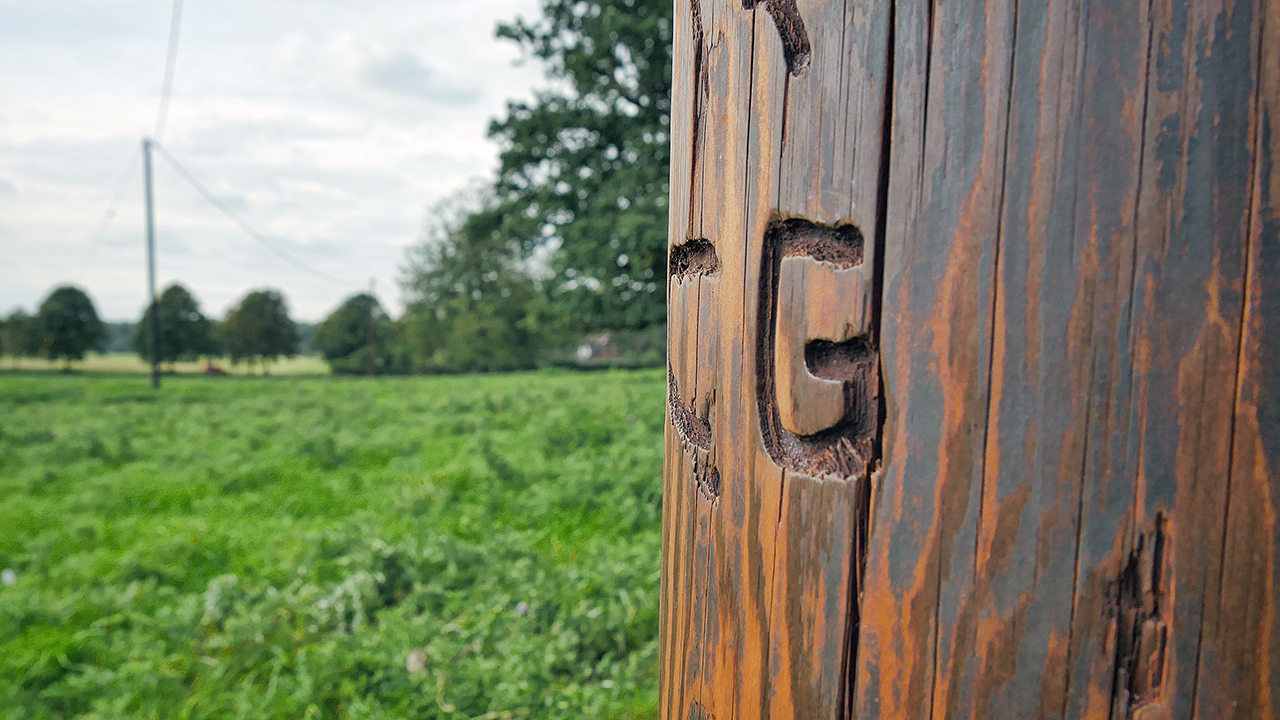 We stock a wide range of pressure impregnated timber poles on site, and our highly knowledgeable team are able to consult with you to find the perfect pole for your requirements.
Since Calders and Grandidge started supplying telegraph poles in the 1930s, we have worked with three generations of family companies in Scandinavia ensuring our timber is sustainable and of the very best quality.
Wherever you are in the country, you are never far from a Calders and Grandidge pole which helps keep Britain connected through electricity or communications.
As well as our stock range we are also able to tailor poles to your individual requirements and standards.
All poles are fabricated at our site in Boston, Lincolnshire either to customer specific standards, or to BS EN14229 (including CE marking), prior to pressure impregnantion with creosote or copper biocide. We deliver nationwide on our own fleet of vehicles with crane offload capability.
If you would like to know more about our pole range email enquiries@caldersandgrandidge or call our sales team on 01205 358866. We look forward to hearing from you.
Pole Production – useful facts
Debarking & Classification
Our poles are debarked and inspected at source shortly after harvesting. Poles are graded into sizes (light, medium and stout) and stacked accordingly for partial seasoning. All of our poles are sourced from PEFC or FSC certified forests.
Seasoning
We believe the best way to season timber is naturally, by air. This process may take longer, between 6 and 18 months, but we believe it is the best way to ensure high quality treated timber poles as an end result.
Poles begin seasoning at source where they are stacked in accordance with the requirements of BS EN14229. Once they have been shipped to our site they are laid in graded stacks for further seasoning. During this time poles are consistently moisture tested, and are not processed until their moisture content is compliant with the relevant standard.
Dressing
The outer cambium layer is removed prior to fabrication to ensure full sapwood penetration during the treatment process. The peelings from the pole are utiised on site as fuel for our biomass boiler to produce steam to heat the creosote used in our treatment process, and to provide heat within our production facility.
Fabrication
Once the poles have dried sufficiently and been dressed they are ready for fabrication. At this stage we hand craft the poles to meet your individual specifications and requirements.
Preservative Treatment
Your poles can be pressure impregnated with either creosote or copper biocide, depending on the application/location.
Creosote impregnation gives your timber pole the longest life span possible with an expected working life of up to 60 years, but may last considerably longer. Indeed there are numerous examples of poles in service which are over 100 years old!
Copper biocide impregnation gives an expected working life of up to 30 years and can be used in some applications where creosote is not permitted.
All your treated poles will be pressure impregnated on site in one of our four treatment plants, in accordance with BS8417. After pressure treatment poles are stored in accordance with BS EN14229 before being dispatched to you.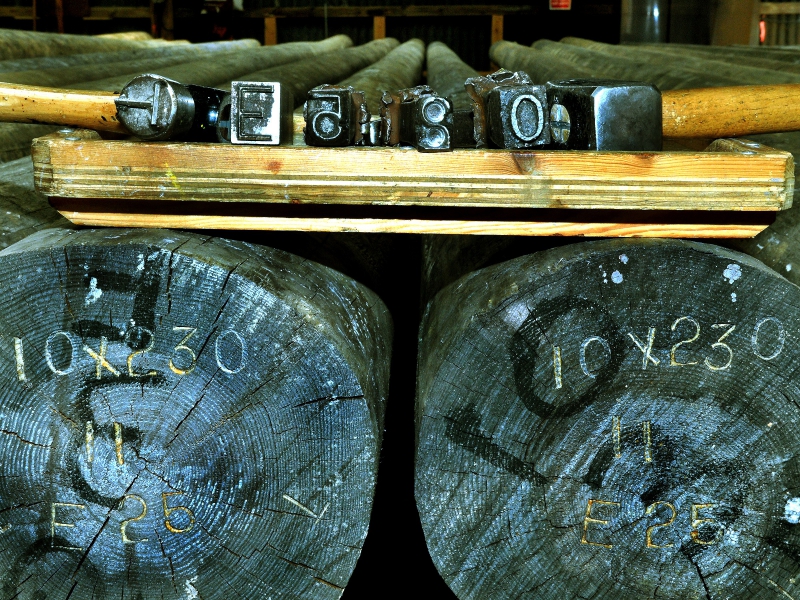 Pole Benefits – useful facts
Transportation and Handling
Wood poles are better able to withstand knocks during handling, whereas the galvanised face of a steel pole is thin and can easily be damaged leaving the steel open to the elements and causing rust.
Foundation Requirements
Timber poles can be planted directly into the ground, even when pressure creosote treated. This makes timber a much easier material to work with as other types of poles may require concrete foundations and collars to prevent deterioration.
Moreover a timber pole is the lighter option, in comparison to most alternatives, meaning it can be more easily lifted into place by smaller cranes, saving you money. Once in place, timber poles do not need to be electrically earthed like their steel and concrete counterparts as wood does not conduct electricity.
Ease of Machining
The ease of which timber can be machined means we are able to tailor our stock range of poles to your individual requirements and specifications. Bespoke design is a much more costly and time consuming process when dealing with steel and concrete.
Ease of Cable Installation
Timber poles are far easier for linesmen to work on as unlike steel and concrete poles they require no special access equipment or attachments for accessories. Installations can be made by simply using screws and bolts.
Cost Saving
Wood poles are less expensive than the alternatives in many areas. These costs include raw material, manufacturing and transport and enable us to provide a more cost effective solution for you.
Furthermore timber poles are easier to install and modify on site, meaning you will be constantly saving money throughout the life cycle of your pole through reduced maintenance costs.
Environmental Impact
All the timber we use in the manufacture of our poles is sourced from PEFC & FSC certified forests , meaning all the trees we harvest come from sustainably managed forests. No other pole material comes from a renewable source, making timber the only true eco-friendly material.
After their service life, timber poles can currently be re-used for any approved use or recycled as fuel. This adds value as well as additional years to the lifecycle of your timber pole.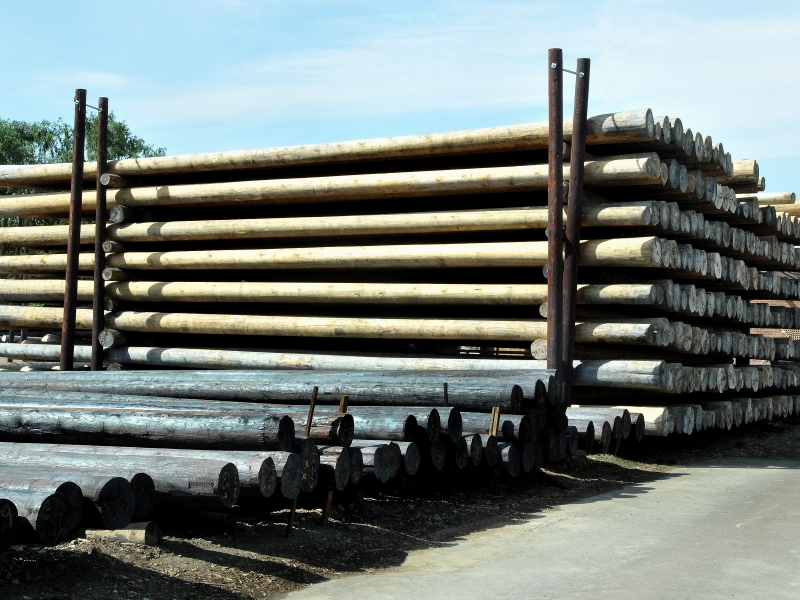 PEFC & FSC
All gates are available in a creosote version
Please note a contractor's log in is required for purchase of all creosote products